Hi Tech Solutions, Satellite Solutions DirecTV Dish Network Satellite Installer
In Cleveland Ohio 44146
216-233-8544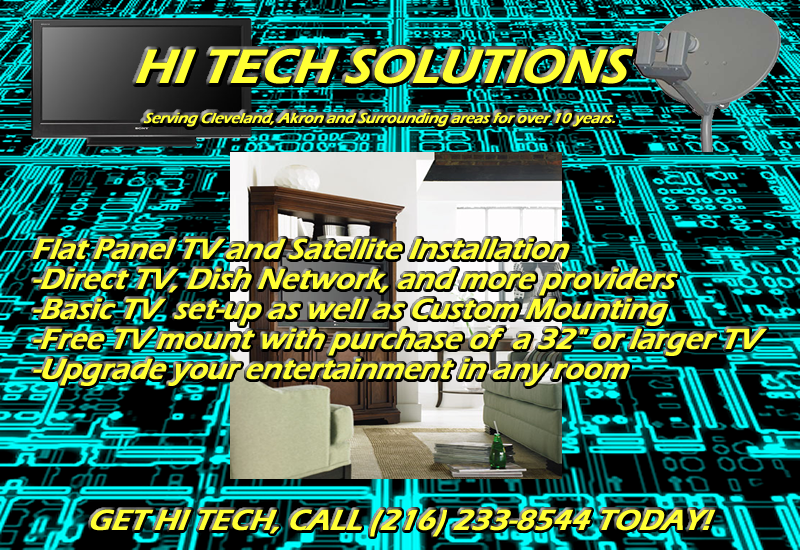 About Our Business
Call on Hi-Tech Solutions 216-233-8544 for your Commercial Business or Home Satelite Dish in Cleveland, OH or the surrounding communities. No need to wait – call us today at (216) 233-8544 for a free Satellite Dish estimate. We are a member of the Chamber of Commerce, licensed, bonded and insured, and offer 100% satisfaction guaranteed on all workmanship, including our one-year labor warranty and the manufacturer's warranty on all installed Satellite equipment. Ask About Our Senior Discount. We provide the finest service to Bedford, Hudson, Solon, Bainbridge, Twinsburg, Macedonia, Cleveland, Akron, Canton OH, and all of North East NE Ohio, including Cuyahoga, Portage, Geauga and Summit Counties. High Tech Satellite Solutions, Hitech DirecTV installs.

Hi-Tech Security Solutions at (216) 233-8544 offers the finest Satellite Dish Sale Installation & Service for Cleveland, OH and the surrounding areas. We specialize in quality Satellite Installation for home and business DirecTV, Dish Network, Free To Air FTA, including expert installation services. We offer the finest Satellite and High Definition HD DVR systems, as well as expert installation of interior and exterior wiring. HD LCD Plasma Tv & Surround Sound installations . We offer personalized Entertainment Center & Home Theater designs, along with MDU multiple dwelling units SMATV & CCTV, Ip Cameras,Video Walls, Video Switcher, Digital Signage as well as interior and exterior perimeter surveillance solutions. We handle all interior wiring, as well as quality installation of all DirecT & Dish Network Satellite Dish Equipment. We also Do In Home Tv Repairs, LCD TV Repairs, Plasma Tv Repairs & Projector TV Repair. Video Cameras and Security Systems installations amd wiring.

High Tech Solutions is one of the leaders for quality business and Home Satellite TV service DirecTV Dish Network FTA Dish in Cleveland OH and the neighboring Cleveland,Garfield Hts,Maple Heights,Parma,Walton Hills Ohio and surrounding cities and towns. We offer expert Satellite Cable TV wiring, state-of-the-art remote control systems, as well as the finest Audio and Video Systems for ultimate entertainment. Our satellite installation provides strategically placed HD satellite dish for the best signal on your property, as well we can install a superior Roof Antenna System to Receive HD High Definition of local channels ABC NBC CBS PBS FOX and many more FREE No Monthly Charge, forget about cable TV. Our Satellite Dish Installation company takes pride in providing the finest equipment, along with our expert design skills and quality cable wire installation services.



Services We Provide
Dish Network Satellite in Cleveland, OH & Akron Ohio
Home Satellite Systems in
Cleveland

, OH & Akron
Antenna Installation In Cleveland Ohio & Akron
Business Satellite Installer in
Cleveland

, OH & Akron
DirecTV Satellite in
Cleveland

, OH & Akron
Home Satellite Dish Company in
Cleveland

, OH & Akron
FTA Free to Air Satellite in
Cleveland

, OH & Akron
Audio Video Home Theater Wiring in
Cleveland & Akron

, OH
India,Indian,Spanish,Asian and All Foreign Satellite in
Cleveland

, OH
Cable TV Wiring in
Cleveland

, OH & Akron
Camera Installation in
Cleveland

, OH & Akron

Video Wall, Video Switcher in Cleveland & Akron , OH

216-233-8544
More Business Information
Payment Methods Accepted:

Certificates or Licenses:
Licensed, Insured, Bonded


Hours of Operation
Closed
09:00am to 06:00pm
09:00am to 06:00pm
09:00am to 06:00pm
09:00am to 06:00pm
09:00am to 06:00pm
10:00am to 03:00pm
Sunday
Monday
Tuesday
Wednesday
Thursday
Friday
Saturday

Find us Online
DirecTV & DIsh Network Satellite In Cleveland, Ohio Address: Hi Tech Solutions 628 Golden Oak Pkwy Oakwood Village, OH 44146 | (216) 233-8544 Info@4-hitech.com